In het centrum van Den Haag staat de enige overgebleven jenever- en likeurstokerij: Van Kleef.
U komt hier niet alleen voor Bruidstranen, Kruìde Baggâh of Haager Whisky, maar ook voor een bijzonder verhaal. De hartelijke eigenaar kent een leuke anekdote over elke likeur of jenever en vertelt gepassioneerd over het bedrijf en zijn afkomst. De distilleerderij werd opgericht in 1842 – en dat zie je bij binnenkomst: het gebouw ademt vakmanschap uit elke porie, compleet met vaten waarin heerlijk water is opgeslagen.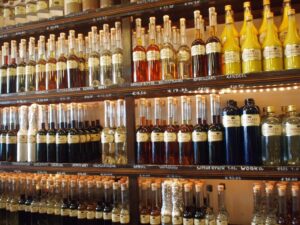 Van Kleef biedt ook verschillende arrangementen aan en er is de mogelijkheid voor een rondleiding met een privégids die meer vertelt over de apparatuur, de geschiedenis van de distilleerderij en de geproduceerde sterke drank.